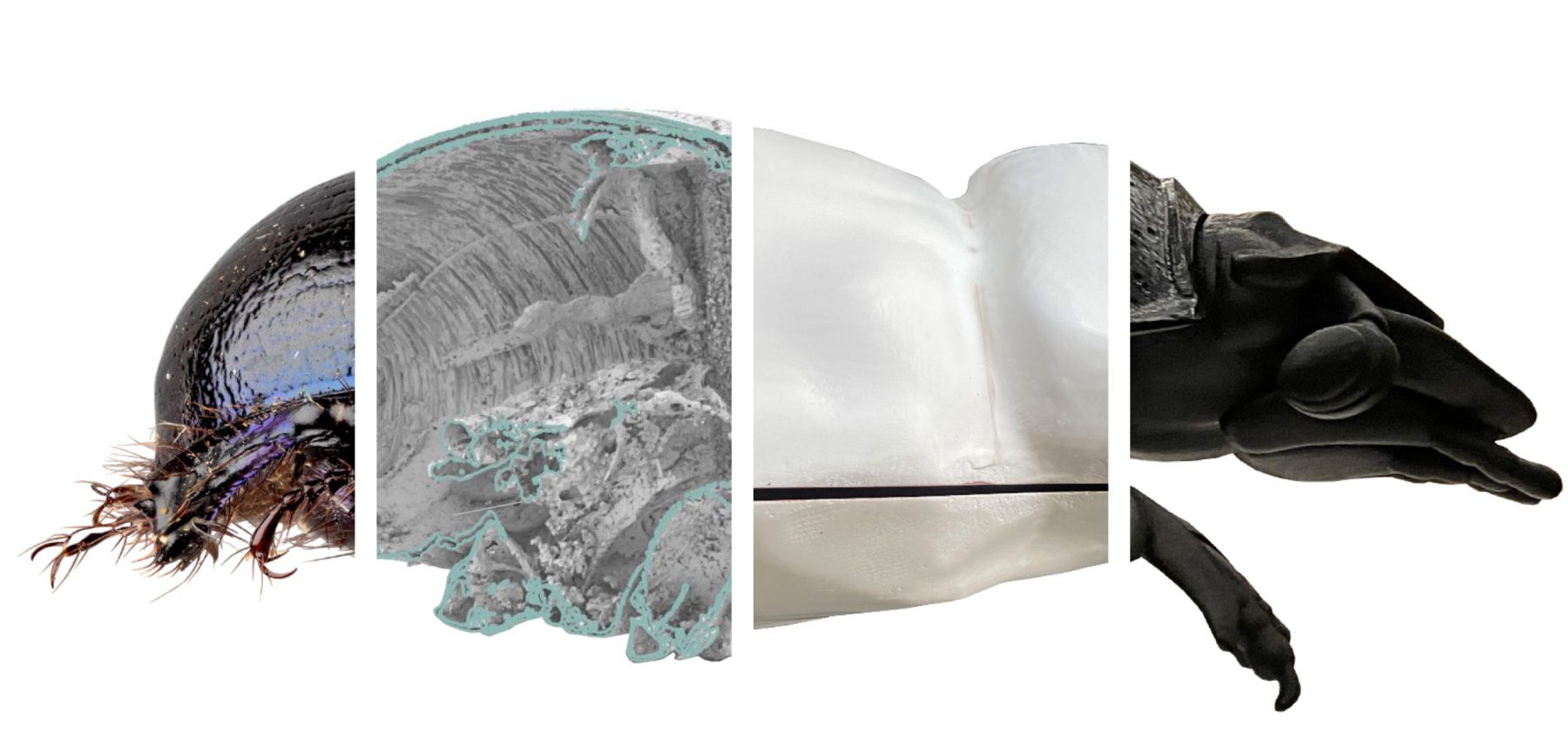 Projects
4000 realized projects in 27 years
At the beginning it started with architectural models. But why should we limit our expertise to that? We can build whatever you want. Get inspired and compile your favorites from architecture, design, art and museum projects.
Click here for the project overview
LEROSH starts on 1.8.2022
It can start now! ….
Learning Robot Grinding Technology for the Handicraft Sector' will be our topic for the next 3 years of the research project and beyond in all handicraft enterprises or other SMEs that rely on robotics.
Everything important about the project can be found on the LEROSH-homepage.
A large team, lots of know-how, many good approaches and the funding from the BMBF make us confident that we will be able to make an important contribution to robotics in the skilled crafts sector.
Our Customers
Architects

a24 Landschaft, Berlin
ACT Architektur concept Tröster, Rainau
a:dks, Berlin
Adamietz, Berlin
Adjaye Associates, London, New York
AFF Planungsgesellschaft, Berlin
ALAS, Berlin
Albert Speer & Partner, Frankfurt
Stephan Albrecht, Stuttgart
Allmann Sattler Wappner, München
Anderhalten Architekten, Berlin
Angelis + Partner, Berlin
AP Plan, Berlin
ARCASA , Berlin
Wiel Arets, Amsterdam
Wiel Arets Zürich, Zürich
ArtEngineering GmbH, Leinfelden-Echterdingen
Arwest Studio, Moskau
As-If, Berlin
ASTOC ARCHITECTS AND PLANNERS GmbH, Köln
Atelier Eichner, München
Atelier Loidl, Berlin
Atelier Pia Maria Schriever, Berlin
Atelier PK, Berlin
atelier 4d,Berlin
Aukett+Heese, Berlin
AZPML, London
BAR architekten, Berlin
Barkow Leibinger, Berlin
Bartram GmbH & Co. KG, Hohenweststedt
Rüdiger Baumann, Berlin
Baumgarten Simon, Berlin
BAT, Hamburg
bbz landschaftsarchitekten, Berlin
Thomas Baecker, Berlin
Baecker Kraus, Berlin
Bund Deutscher Architekten BDA, Berlin
Eike Becker Architekten, Berlin
Marc Becker, Berlin
Becher Rottkamp Generalplanung
Reiner Becker, Berlin
Behles & Jochimsen, Berlin
Behrens, Berlin
Matthias Benz, Germering
Bernardy Lehnert, Berlin
Berndt+Partner GmbH
Titus Bernhard, Augsburg
Lars Bey, Berlin
BIG | Bjarke Ingels Group, Kopenhagen
Blauraum Architekten, Hamburg
BNArchitekten borchardt.nentwig, Hamburg
Jens Bothe Architects, Hamburg
brandt und simon, Berlin
Braun Canton, Frankfurt
Klaus Theo Brenner, Berlin
breshna miethke thiele, Berlin
BRH (Becher Rottkamp), Berlin
BRT Architekten LLP, Hamburg
BRT Engineering GmbH, Hamburg
BRT RUS, Moskau
Bräunlin + Kolb, Berlin
Buchner Bründler AG, Basel
Bundschuh, Berlin
Ricardo Bofill, Barcelona
Capatti Staubach, Berlin
CDMB Architects, Berlin
David Chipperfield, Berlin
COBE, Berlin
Code of Practice, Berlin
CODE UNIQUE Architekten GmbH, Dresden
cpm architekten, Berlin
Jean Pierre de l´Or , Berlin
dgk architekten und sachverständige, Berlin
Dörr Ludolf Wimmer, Berlin
G. Dreyer Planungsgesellschaft mbH, Berlin
Dula GU GmbH, Dortmund
Jörg Ebers, Berlin
Architekturbüro Edmaier, Berlin
Eller + Eller, Berlin, Düsseldorf
FAT Koehl, Berlin
Fischer Architekten, Mannheim
Fitzpatrick &Partner, Sydney
Foster and Partners, London
Gatermann + Schossig, Köln
Gerber Architekten, Berlin, Dortmund
Gewers Pudewill, Berlin
Giorgio Gullotta Architekten, Hamburg
GKK+Architekten, Berlin
Gmp International, Berlin
gmp von Gerkan, Marg und Partner, Hamburg
Gössler Kinz Kreienbaum
GRAFT, Berlin
Grimshaw Architects, Berlin
Elettra Griesi, Berlin
Grobe, Berlin
F. Gröfke Planungsgesellschaft mbH
Matthias Grote, Berlin
gruebethoma achritekten, Berlin
GRUPPE PLANWERK, Berlin
Grüntuch Ernst, Berlin
Zaha Hadid, London
Häfner Jimenez, Berlin
Thomas Häni, Berlin
Hans&Rinne, Berlin
Hascher Jehle und Assoziierte, Berlin
Heide von Beckerath, Berlin
Ferdinand Heide, Frankfurt
Heinle, Wischer und Partner, Berlin, Stuttgart
Henn GmbH, Berlin
Henn Studio B, Berlin
Herzog & de Meuron, Basel
hg merz, Berlin
Hild und K Architekten, München
Hilmer & Sattler und Albrecht, München
hilligarchitekten, Berlin
Guder Hoffend, Berlin
Holzer Kobler, Berlin, Zürich
HPP, Düsseldorf
H2M, Kulmbach
iwb Ingenieurgesellschaft, Berlin
Illustrated Architecture, Oberkrämer
Jürgen Mayer H., Berlin
k6Architekten, Düsseldorf
Kaup + Wiegand, Berlin
Christian Kennerknecht, Berlin
Christian Kerez GmbH, Berlin
kk architekten, Berlin
Kleboth Lindinger Dollnig ZT GmbH, Linz
Kleihues, Berlin
Jo Klein, Berlin
kleyer.koblitz.letzel.freivogel, Berlin
Köngeter, Berlin
Hannelore Kossel, Berlin
Ferdinand Kramer, Berlin
Krieger + Mielke, Berlin
Krier · Kohl
KSP Jürgen Engel Architekten, Berlin, Frankfurt
Kubeneck, Berlin
Langhof, Berlin
LAVA, Stuttgart
LAVA, Berlin
Léon Wohlhage Wernik, Berlin
Andreas Lechthaler Architecture, London
Daniel Libeskind, Zürich, New York
LIN, Berlin
Rainer Lendeler, Berlin
Reiner Maria Löneke, Berlin
Ludloff + Ludloff, Berlin
Lüling Sauer, Berlin
Siegmar Lungwitz, Dresden
Machleidt + Partner, Berlin
Magma, Berlin
Maron.Rinne, Berlin
Duncan McCauley GmbH & Co. KG, Berlin
Richard Meier, New York
Jens Metz, Berlin
meyerschmitzmorkramer, Frankfurt, Köln
Miethe+Quehl, Potsdam
Mola Winkelmüller, Berlin
morePlatz, Berlin
Motorplan, Mannheim
MVRDV, Rotterdam
Nalbach + Nalbach, Berlin
Neoplan A.O., Berlin
neo systems architects, Berlin
Nething Generalplaner , Siegen
Nickl & Partner, Berlin
Bernd Niebuhr, Berlin
Peter Olbert, Hamburg
OMA, Rem Kohlhaas, Rotterdam
Ortner+Ortner, Berlin
Ottmann Architekten, München
P.arc, Berlin
Patriarche & Co, Paris
Frank Pawlik, Hamburg
pbr Planungsbüro Rohling, Berlin
Sandra Peters, Berlin
Pinkarchitektur, Düsseldorf
PK Arkitektar, Reykjavík
Plancontext, Berlin
Planergemeinschaft für Stadt und Raum eG, Berlin
Planung freiraum, Berlin
planquadrat, Darmstadt
Pool 22, Berlin
PSP, Berlin
Public Art Lab, Berlin
R&P Architekten, Peine
Raumlabor, Berlin
Raumzeit, Berlin
realities:united, Berlin
Riegler Riewe Architekten, Berlin
Henry Ripke, Berlin
RKW, Düsseldorf
roedig.schop, Berlin
Robertneun, Berlin
SAM Architecture, Paris
sander.hofrichter, Ludwigshafen
Sauerbruch Hutton, Berlin
Sauerzapfe Architekten, Berlin
Scharabi Architektur und Projektmanagement GbR, Berlin
Scheidt Kasprusch, Berlin
Kirsten Schemel, Berlin
Büro Ole Scheeren, Berlin
Scherer Pelikan, Berlin
Schindler Friede, Berlin
Schleicher Weiss, Hamburg
Schmalohrarchitekt, Bückeburg
Peter Schmid Group, Hamburg
Bernd Seidel, Berlin
Sichau & Walter, Fulda
splendid architecture, Hamburg
Stadler Prenn, Berlin
Stankovic, Berlin
Stefka Ammon, Berlin
Holger Steinbach, Berlin
Studio Daniel Libeskind, Berlin
Studio Dinnebier, Berlin
Studio Olafur Eliasson, Berlin
Studio Inges, Berlin
Studio Schwitalla, Berlin
Stutzerarchitekten, Berlin
Sunder-Plassmann, Berlin
Tatwerk, Berlin
Hadi Teherani AG, Hamburg
Hadi Teherani Architects, Hamburg
Hadi Teherani Engineering, Hamburg
TCHOBAN VOSS Architekten GmbH, Berlin
THE LINK GbR, Berlin
Thoma-Architekten, Berlin
Thoma-Architekten, Leipzig
Thomanek + Duquesnoy + Boemans, Berlin
Benedict Tonon, Berlin
TOPOTEK 1, Berlin
UNStudio, Amsterdam
urban essences, Berlin
Vielmo, Berlin
Hans Peter Vogler, Berlin
Vogt+Weizenegger, Berlin
Simon Vogt, Hamburg
WGA Deutschland GmbH, Berlin
Weickenmeier, Kunz + Partner, München
Welter, Berlin
Wenk Architekten, Berlin
Westernland, Berlin
wiewiorra hopp, Berlin
Barbara Willecke, Berlin
XDGA, Brüssel
Zanderroth, Berlin
Ralf Ziervogel, Berlin
Zillich, Berlin
Real Estate

st Qatar Real Estate Development, Kuwait
ABG Development GmbH, Berlin
ABG, Köln
ABYAAR Real Estate Development, Dubai
Acconarva GmbH, Berlin
ACON ONE GmbH, Berlin
ADLER Real Estate AG, Hamburg
Allgemeine Südboden Grundbesitz AG, Grünwald
ARMAT Südwest GmbH, PullachATCP Management, Berlin
Aurelis Real Estate GmbH & Co. KG, Berlin
AQ Sellerstraße Coöperativ U.A, Amsterdam
Axel Springer Services & Immobilien, Berlin
BAL Bauplanungs und Steuerungs GmbH, Berlin
BAM Deutschland AG, Stuttgart
BAUWERT Aktiengesellschaft, Berlin
Bayerische Hausbau Immobilien GmbH & Co KG, München
BECKEN Holding GmbH, Hamburg
Beiersdorf Immobilienentwicklungs GmbH, Hamburg
BEOS AG, Berlin
BIC Bau & Immobilien Consulting GmbH, Berlin
BOHNZIRLEWAGEN GmbH, Berlin
BÖAG, Berlin
Bremer AG, Paderborn
BUWOG Meermann, Berlin
CA Immo Deutschland, Berlin
CarLoft® GmbH, Berlin
Centerscape Delta 19, Hannover
Centogene AG, Rostock
Citybauten, Berlin
Cogiton GmbH, Hamburg
Commercial Center HafenCity KG (GmbH & Co.), Hamburg
DIC Projektentwicklung GmbH & Co. KG, Frankfurt
die developer Projektentwicklung GmbH, Düsseldorf
Drees & Sommer GmbH, Berlin
Dritte Adler Real Estate, Hamburg
DWI Grundbesitz GmbH, Hamburg
ECE Projektmanagement G.m.b.H. & Co. KG, Hamburg
econcept Immobilien, Berlin
EFP, Berlin
Eldenaer Investment GmbH, Leipzig
Engel & Völkers, Hamburg
Euroboden Berlin GmbHFREO Financial & Real Estate Operations GmbH, Berlin
FIBONA® GmbH
Gesobau AG, Berlin
GEME Wohnbau GmbH, München
Goldsmith Group, Zug
Gebr. Heinemann, Hamburg
Grimm Holding GmbH, Berlin
Groß+Partner, Frankfurt a. Main
Großmann & Berger, Hamburg
GSG Gewerbesiedlungs-Gesellschaft mbH
gsp GmbH, Berlin
Hafencity Hamburg
HGROUP, München
Hines Europe, London
Hines Immobilien GmbH, Berlin, München
Hoch der Isar GmbH und Co. KG, Hamburg
impuls Finanzmanagement AG, Gersthofen
Instone Real Estate Development GmbH, Erlangen
Inteco, Moskau
Jahn GmbH, Berlin
Kauri Cab, Berlin
Kölbl Kruse GmbH, Essen
Koopmann. Kommunikation, Berlin
LBBW Immobilien Development GmbH, Stuttgart/Berlin
LBBW Immobilien Management GmbH, Stuttgart
LIDL Stiftung & Co KG, Neckarsulm
LIP, Ludger Inholte Projektentwicklung, Hamburg
Lorenzen & Partner GbR, Berlin
LUXCONSULT S.A., Luxembourg
Magnolia Bostad, Stockholm
Mamrud & Smuskovics, Berlin
MB Capital Services, Berlin
MEAG, München
Meermann-Gruppe Berlin
MEP International, Berlin
Mersfor International B.V., Rotterdam
Momeni Projektentwicklung GmbH, Hamburg
Müller-Spreer AG, Berlin
NEWPORT RE GMBH, Berlin
OKI Ost und Koch Immobilien GmbH, Osnabrück
Omniyat Properties, Dubai
Omrania & Associates, Amman
Oscar Properties, Stockholm
OVG Real Estate, Rotterdam
Porr Projekt und Hochbau Aktiengesellschaft, Wien
PREUSS Projektmanagement GmbH, München
Primus AG, Berlin
Projektwerke Hamburg
pwr development, Berlin
Quantum Projektentwicklung GmbH, Hamburg
QUEST Investment Partners Berlin, Berlin
REALACE GmbH, Berlin
REDEVCO Services Deutschland GmbH, Düsseldorf
Robert Vogel GmbH&Co.KG, Hamburg
RS GmbH & Co. Immobilien II KG, Varel
S&P Development Objekt 6, Erlangen
Sallier Immobilien e.K., Lüneburg
SGI Immobilienentwicklung und Verw. GmbH, Berlin
SIGNA Real Estate Managemet, Berlin
Skydiver GmbH, Wien
Skytower Hamburg GmbH
SpacePlus GmbH, Berlin
STOFANEL Investment AG, Berlin
STRABAG Real Estate GmbH, Berlin
Sunrise Riwwerside GmbH, Mannheim
Sweco GmbH, Berlin
TAS OR Projekt, Hamburg
Teerhof Beluga RG, Bremen
Thunnissen GmbH&Co. KG, Düsseldorf
Ticoncept, Berlin
Troko Berlin
TÜV Süd Immobilien, München
Unibail-Rodamco SE, Paris
UTB Grundstücksentwicklungsgesellschaft mbH, Berlinvinc
Vinci Construction France, Nanterre Cedex
Vivico Real Estate GmbH, Frankfurt
Volkswagen Immobilien, Wolfsburg
Volt Berlin GmbH & Co KG, Berlin
Weisenburger Projekt GmbH, Rastatt
WindStone International Gmbh, Berlin
Zech Immobilien Beteiligungs GmbH, Bremenzüb
Ziegert, Berlin
ZÜBLIN Development GmbH, Hamburg
Designer & Agencies

st Qatar Real Estate Development, Kuwait
ABG Development GmbH, Berlin
ABG, Köln
ABYAAR Real Estate Development, Dubai
Acconarva GmbH, Berlin
ACON ONE GmbH, Berlin
ADLER Real Estate AG, Hamburg
Allgemeine Südboden Grundbesitz AG, Grünwald
ARMAT Südwest GmbH, PullachATCP Management, Berlin
Aurelis Real Estate GmbH & Co. KG, Berlin
AQ Sellerstraße Coöperativ U.A, Amsterdam
Axel Springer Services & Immobilien, Berlin
BAL Bauplanungs und Steuerungs GmbH, Berlin
BAM Deutschland AG, Stuttgart
BAUWERT Aktiengesellschaft, Berlin
Bayerische Hausbau Immobilien GmbH & Co KG, München
BECKEN Holding GmbH, Hamburg
Beiersdorf Immobilienentwicklungs GmbH, Hamburg
BEOS AG, Berlin
BIC Bau & Immobilien Consulting GmbH, Berlin
BOHNZIRLEWAGEN GmbH, Berlin
BÖAG, Berlin
Bremer AG, Paderborn
BUWOG Meermann, Berlin
CA Immo Deutschland, Berlin
CarLoft® GmbH, Berlin
Centerscape Delta 19, Hannover
Centogene AG, Rostock
Citybauten, Berlin
Cogiton GmbH, Hamburg
Commercial Center HafenCity KG (GmbH & Co.), Hamburg
DIC Projektentwicklung GmbH & Co. KG, Frankfurt
die developer Projektentwicklung GmbH, Düsseldorf
Drees & Sommer GmbH, Berlin
Dritte Adler Real Estate, Hamburg
DWI Grundbesitz GmbH, Hamburg
ECE Projektmanagement G.m.b.H. & Co. KG, Hamburg
econcept Immobilien, Berlin
EFP, Berlin
Eldenaer Investment GmbH, Leipzig
Engel & Völkers, Hamburg
Euroboden Berlin GmbHFREO Financial & Real Estate Operations GmbH, Berlin
FIBONA® GmbH
Gesobau AG, Berlin
GEME Wohnbau GmbH, München
Goldsmith Group, Zug
Gebr. Heinemann, Hamburg
Grimm Holding GmbH, Berlin
Groß+Partner, Frankfurt a. Main
Großmann & Berger, Hamburg
GSG Gewerbesiedlungs-Gesellschaft mbH
gsp GmbH, Berlin
Hafencity Hamburg
HGROUP, München
Hines Europe, London
Hines Immobilien GmbH, Berlin, München
Hoch der Isar GmbH und Co. KG, Hamburg
impuls Finanzmanagement AG, Gersthofen
Instone Real Estate Development GmbH, Erlangen
Inteco, Moskau
Jahn GmbH, Berlin
Kauri Cab, Berlin
Kölbl Kruse GmbH, Essen
Koopmann. Kommunikation, Berlin
LBBW Immobilien Development GmbH, Stuttgart/Berlin
LBBW Immobilien Management GmbH, Stuttgart
LIDL Stiftung & Co KG, Neckarsulm
LIP, Ludger Inholte Projektentwicklung, Hamburg
Lorenzen & Partner GbR, Berlin
LUXCONSULT S.A., Luxembourg
Magnolia Bostad, Stockholm
Mamrud & Smuskovics, Berlin
MB Capital Services, Berlin
MEAG, München
Meermann-Gruppe Berlin
MEP International, Berlin
Mersfor International B.V., Rotterdam
Momeni Projektentwicklung GmbH, Hamburg
Müller-Spreer AG, Berlin
NEWPORT RE GMBH, Berlin
OKI Ost und Koch Immobilien GmbH, Osnabrück
Omniyat Properties, Dubai
Omrania & Associates, Amman
Oscar Properties, Stockholm
OVG Real Estate, Rotterdam
Porr Projekt und Hochbau Aktiengesellschaft, Wien
PREUSS Projektmanagement GmbH, München
Primus AG, Berlin
Projektwerke Hamburg
pwr development, Berlin
Quantum Projektentwicklung GmbH, Hamburg
QUEST Investment Partners Berlin, Berlin
REALACE GmbH, Berlin
REDEVCO Services Deutschland GmbH, Düsseldorf
Robert Vogel GmbH&Co.KG, Hamburg
RS GmbH & Co. Immobilien II KG, Varel
S&P Development Objekt 6, Erlangen
Sallier Immobilien e.K., Lüneburg
SGI Immobilienentwicklung und Verw. GmbH, Berlin
SIGNA Real Estate Managemet, Berlin
Skydiver GmbH, Wien
Skytower Hamburg GmbH
SpacePlus GmbH, Berlin
STOFANEL Investment AG, Berlin
STRABAG Real Estate GmbH, Berlin
Sunrise Riwwerside GmbH, Mannheim
Sweco GmbH, Berlin
TAS OR Projekt, Hamburg
Teerhof Beluga RG, Bremen
Thunnissen GmbH&Co. KG, Düsseldorf
Ticoncept, Berlin
Troko Berlin
TÜV Süd Immobilien, München
Unibail-Rodamco SE, Paris
UTB Grundstücksentwicklungsgesellschaft mbH, Berlinvinc
Vinci Construction France, Nanterre Cedex
Vivico Real Estate GmbH, Frankfurt
Volkswagen Immobilien, Wolfsburg
Volt Berlin GmbH & Co KG, Berlin
Weisenburger Projekt GmbH, Rastatt
WindStone International Gmbh, Berlin
Zech Immobilien Beteiligungs GmbH, Bremenzüb
Ziegert, Berlin
ZÜBLIN Development GmbH, Hamburg
Artists and Galleries

Air de Paris
Anna Jil Lüpertz Gallery, Berlin
Anna K.E., New York
Arter, Paris
Asisi F&E GmbH, Berlin
Atelier Joseph Marr, Berlin
Atelier Sophie Ernst, Bussum
Atelier Uwe Henneken, Berlin
Atelier Vera Röhm, Darmstadt
Atelier Alexandra Spiegel, Berlin
Vartan Avakian, Beirut
Boris Bandyopahyay, Berlin
Rosa Barba, Berlin
Marc Becker, Berlin
Berlinartprojects
Monica Bonvicini, Berlin
Studio Angela Bulloch, Berlin
Nicole Cohen, New York
Michal Cole, London
Deutsche Guggenheim Berlin
Aleksandra Domanovic, Berlin
Serge Ecker, Kayl
Oscar Enberg, Berlin
Galerie Esther Schipper, Berlin
Berta Fischer, Berlin
Ceal Floyer, Berlin
Anselmo Fox, Berlin
Friedrich Petzel Gallery, New York
Future Gallery, Berlin
Galerie Mehdi Chouakri, Berlin
Galerie Barbara Weiss, Berlin
Johannes Gonné, Darmstadt
Monika Götz, Berlin
Katharina Grosse, Berlin
Grzymala GmbH, Berlin
Ebon Heath, Berlin
Götz Holborn, Berlin
Olaf Holz, Berlin
Carsten Höller AB, Berlin
Daniel Josephssohn, Berlin
Melike Kara, Köln
Armin Keplinger, Berlin
Julian-Jakob Kneer, Berlin
Johann König GmbH, Berlin
Kunst-Werke Berlin e.V.
Alicja Kwade, Berlin
Yuri Leidermann, Berlin
Annika Lischke, Berlin
Katja Loher, Zürich
Luca Buvoli, Italien
MADE, Berlin
Barbara-Brigitte Mak, Berlin
Medium Gilles Pegel, Bettembourg
Matthias Megyeri, Stuttgart
Michael Petri, Leipzig
Philipp Peil, Berlin
Julius Popp, Berlin
Markus Popp, Berlin
John Rafman, Montreal
Nicolas Reichelt, Leipzig
Philipp Reitsam, Ingolstadt
Anselm Reyle GmbH, Berlin
Rhodeworks GmbH, Berlin
Nikolai von Rosen, Berlin
Michael Sailstorfer, Berlin
Pietro Sanguineti Studio, Berlin
Fons Schiedon, Berlin
Kathrin Sonntag, Berlin
Helmut Staubach, Berlin
Joulia Strauss, Berlin
Studio Claudia Comte, Berlin
Studio Gründer Kirfel, Bedheim
Studio Gregor Hildebrandt, Berlin
Studio Martin Eder, Berlin
Studio Martina Schumacher, Berlin
Studio Michal Najjar, Berlin
Studio Philippe Parreno, Berlin
Studio Ramberg, Berlin
Studio Tobias Rehberger, Frankfurt/Main
Studio Tomas Saraceno, Berlin
Aya Takahashi, Berlin
Temporary Gallery, Köln
Universität der Künste, Berlin
Mátyás Vargas, Berlin
Verein der Freunde der Nationalgalerie e.V. , Berlin
Philip Wiegard, Berlin
Veronika Wildgruber, Berlin
Siren Elise Wilhelmsen, Berlin
David Zink Yi, Berlin
Museums

Art Institut Chicago
Astana EXPO 2017
Autostadt GmbH, Wolfsburg
Berchtesgadener Landesstiftung
Berlinische Galerie
Besucherzentrum Welterbe Regensburg
Centre Pompidou, Paris
Cité du Design, St. Etienne
Comité de la Biennale, Vallauris
DDR Museum Berlin
Deutsches Architekturzentrum, Berlin
Deutsches Museum München
Deutsches Technikmuseum Berlin
Dokumentationszentrum Alltagskultur der DDR, Eisenhüttenstadt
Gedenkstätte Berlin-Hohenschönhausen
Germanisches Nationalmuseum, Nürnberg
Filmmuseum Berlin
Focke-Museum, Bremen
Fondation Beyeler, Basel
Hamburger Bahnhof, Berlin
Haus der Brandenburgisch-Preußischen Geschichte gGmbH
Haus der Kunst, München
Historisches Museum Bern
Historisches und Völkerkundemuseum, St. Gallen
Humboldt Forum Kultur Gmbh, Berlin
Jüdisches Museum Berlin
KINDL Zentrum für zeitgenössische Kunst, Berlin
Kleist-Museum
Kulturhistorisches Museum Magdeburg
Kulturprojekte Berlin
LVR Archäologischer Park Xanten
LVR Industriemuseum, Euskirchen
Museum Boijmans, Rotterdam
Museum Brandhorst, München
Museum für Naturkunde, Berlin
Museum of Modern Art, New York
Museumsstiftung Post und Telekommunikation, Berlin
Museumsquartier Osnabrück
Neue Nationalgalerie Berlin
Nationalpark Bayerischer Wald
OZEANEUM Stralsund GmbH
Paläon Schöninger Speere
Rheinisches Landesmuseum Trier
Römerpark Ruffenhofen
Sächsisches Industriemuseum, Crimmitschau
Schützenmuseum Duderstadt
Schwules Museum, Berlin
Staatliche Antikensammlung, Berlin
Staatliches Museum für Naturkunde Karlsruhe
Stichting tot beheer Museum Boijmans Van Beuningen, Rotterdam
Stiftung Bauhaus Dessau
Stiftung Berliner Philharmoniker
Stiftung Berliner Schloss Humboldtforum, Berlin
Stiftung Deutsches Hygiene-Museum, Dresden
Stiftung Deutsches Technikmuseum Berlin
Stiftung Haus der Geschichte der BRD, Berlin
Stiftung Haus der Geschichte der BRD, Bonn
Stiftung Humboldtforum im Berliner Schloss
Stiftung Flucht, Vertreibung, Versöhnung, Berlin
Stiftung Preußischer Kulturbesitz, Berlin
Stiftung Preußische Schlösser und Gärten, Potsdam
Stiftung Pommersches Landesmuseum, Greifswald
Stiftung Stadtmuseum Berlin
Stiftung Topographie des Terrors, Berlin
Stiftung Zollverein, Essen
Zoo Hannover
Zoologisches Museum, Hamburg
Public sector, schools & associations

Achtung Berlin e.V.
Albert-Ludwigs- Universität Freiburg
Allergy Freindly Buildings Alliance GmbH, Berlin
Berliner Wasserbetriebe
Brandenburgischer Landesbetrieb für Liegenschaften
BSR Berliner Stadtreinigungsbetriebe
Bundesanstalt für Immobilienaufgaben, Soltau
Bundesamt für Bauwesen, Berlin
Bundesinstitut für Bau-, Stadt- und Raumforschung, BBSR
Bundesparteizentrale SPD
Bürgerstiftung Dresden
Charité, Berlin
DESY, Hamburg
Deutsche Bahn AG, Berlin
Deutscher Bühnenverein, Köln
Erzbischöfliches Ordinariat Berlin
Erzbischöfliches Ordinariat München
European Parliament, Brüssel
FH-Potsdam
Forschungsinstitut für Wasser- und Abfallwirtschaft der RWTH Aachen e.V.
Fraunhofer-Institut FEP, Dresden
Fraunhofer-Institut – IWU, Chemnitz
Fraunhofer-Institut IZM, Berlin
GDKE Rheinland Pfalz, Trier
LHH Landeshauptstadt Hannover
Hansestadt Buxtehude
Hochschule für Gestaltung FHNW, Basel
HPI für Softwaretechnik, Potsdam
HTW Hochschule für Technik und Wirtschaft, Berlin
IFA, Stuttgart
Institut für Baukonstruktion und Industriebau TU Berlin
IN4climate.NRW GmbH
Kloster Chorin
Kompetenzzentrum Wasser, Berlin
Kulturprojekte Berlin GmbH
Landesamt für Umwelt, Potsdam
Landesbetrieb Liegenschafts- und Baubetreuung, Koblenz
Landtag von Baden-Württemberg
LVR Landschaftsverband Rheinland, Köln
menschenformen e.V., Berlin
Naked Heart Foundation, London
Ralf Möller Flohr, Berlin
Sartorius College, Göttingen
Senatsverwaltung für Stadtentwicklung Berlin
Social Impact gGmbH, Berlin
Staatsbetrieb SIB NL Dresden II
Stadt Bebra
Stadt Duderstadt
Stadt Frankfurt
Stadt Hannover
Stadt Magdeburg
Stadt München
Stadt Regensburg
Stadt Stuttgart
Stadtwerke Mainz AG
Stiftung Berliner Philharmoniker
Stiftung Garnisonskirche Potsdam
Technische Universität Hamburg-Harburg
TU Berlin, FG Architekturdarstellung
Überlandwerke Groß-Gerau GmbH
Unfallkrankenhaus Berlin
University of Hamburg – Meteorological Institute
VIA Verbund für Integrative Angebote Berlin
VIA-Werkstätten gGmbH, Berlin
Vivantes Netzwerk für Gesundheit GmbH, Berlin
VRVis Forschungs-GmbH, Wien
WLV Westfälisch-Lippische, Münster
Industry & Commerce

AGC Interpane, Lauenförde
alusi ephemeral art, Berlin
Aptar, Freyung
BCG Digital Ventures GmbH, Berlin
Biotronik, Berlin
BLACKCAM 4D GmbH, Berlin
Bless GmbH, Berlin
BMW AG, München
Bombardier Transportation, Berlin
Brillux GmbH & Co KG, Münster
Brocard Parfums GmbH
Bugatti Engineering GmbH, Wolfsburg
City Clean, Berlin
Commerzbank AG, Berlin
Continental Automotive Systems, Berlin
Conworx Technology GmbH, Berlin
Coty Inc! – Strech Innovations, Paris
DB Rent GmbH, Berlin
DB Schenker, Berlin
DB Station&Service AG, Berlin
design hotels AG, Berlin
Deutsche Steinzeug Cremer & Breuer AG, Alfter Witterschlick
Deutsche Telekom AG, Berlin
Ductio LED GmbH, Berlin
Du Pont de Nemours (Deutschland) GmbH, Neu-Isenburg
ELSHOPO – OUI, Berlin
El Mohr, Kairo
emdelight GmbH, Frankfurt
Ernst & Young, Berlin
Esti Apparatebau, Berlin
EvoLogics GmbH, Berlin
expert SE, Langenhagen
Fanuc Deutschland GmbH, Neuhausen auf der Fildern
feno GmbH, Oberhaching
GASOLF GmbH, Berlin
Gletty Guitars, Berlin
Gropius Passagen, Berlin
Hager SE, Blieskastel
Heier GmbH, Berlin
Heller Enterprises GmbH, Zürich
HPI für Softwaretechnik, Potsdam
Hübner Schlösser & Cie, Grünwald
hwup Consulting GbR, Eichwalde
Interstuhl Büromöbel GmbH & Co. KG, Meßstetten
Kindl, Berlin
Knoll, New York
KPM, Berlin
Johann Lasslop GmbH, Hünfeld
Lautsprecher Teufel GmbH, Berlin
LIDL Stiftung & Co. KG, Neckarsulm
Lunos Lüftungstechnik GmbH, Berlin
Marmor.de
Max Collection, Berlin
A. Menarini Research & Business, Berlin
Madcat GmbH, Queidersbach
Meteogroup Deutschland GmbH, Berlin
Mercedes-Benz Egypt S.A.E., New Cairo
Mercedes-Benz Kazakhstan, Almaty
Mohr Models, Berlin
muse_concept, Berlin
Musikon GmbH, Berlin
PACE Paparazzi Catering, Berlin
Panometer GmbH, Berlin
Photonic Insights UG, Berlin
PPS Imaging GmbH, Berlin
Reifenhäuser GmbH, Troisdorf
Reiss Büromöbel GmbH, Bad Liebenwerda
Ritter Instruments, Deidesheim
Rühling Shop + Objekt, Kromsdorf
SAP AG, Berlin
SAP SE Walldorf
Sartorius, Göttingen
Thomas Schick, Liebenwalde
Schoepe Display GmbH, Dahlewitz
Schumaier GmbH, Berlin
Schwäbischer Verlag GmbH und Co. KG, Ravensburg
J.F.S. Parfums Berlin GmbH
seele austria GmbH & Co. KG, Schörfling
Selux AG, Berlin
Siemens AG, Berlin
Strauss Trading KG, Biebergmünd
Strehl GmbH & Co KG, Bremervörde
Takata-Petri AG, Berlin
Tau Kinderprodukte, Potsdam
TGW Systems Integration, Wels
Thonet GmbH, Frankenberg/Eder
Tier Mobility GmbH, Berlin
TRUMPF Laser- und Systemtechnik GmbH, Ditzingen
Volkswagen AG, Wolfsburg
Volkswagen Konzernforum, Berlin
Wallpaper*, London
Wood's Up, Berlin
Philipp Wuthe, Berlin
Zumtobel Licht GmbH, Berlin
Craft & Service Provider

Architekturmodellwerkstatt, Troisdorf
Atelier Norbert Marten, Westerstede
Barth Innenausbau, Brixen
Bauer Beton, Berlin
Big Rep GmbH, Berlin
Uwe Böhm Photography, Berlin
Bonack Aesthetic Engineering GmbH, Berlin
Buenck + Fehse GmbH, Berlin
Charles Metz GmbH&Co.KG, Hamburg
Thomas Dempwolf, Berlin
Dowe Modellbau, Berlin
Uwe Drechsel, Berlin
Edelstahl Haese, Woltersdorf
Einhaus Architekturmodelle, Düsseldorf
E&W BauTec GbR, Fürstenberg
fastpart Kunststofftechnik, Berlin
film.bau.berlin
Gruber.Foster GmbH, Zürich
Franz Jaeger Berlin
Herdejürgen & Harmsen, Nordenham
Hertzer GmbH, Berlin
Holzwerk, Berlin
Jochen Arndt, Berlin
Krebes Raumausstattung & Design, Berlin
Krüger Modellbau, Falkensee
L.A.R.A. Enterprises.com GmbH, Berlin
Christine A. Lebert, Berlin
Lindner Group, Stuttgart
Udo Meinel, Berlin
Messebau Keck GmbH, Weil der Stadt
Micro Model FZC, Sharjah
Modellbau Heidenreich, Hude
Modellbau Milde, Berlin
Monath + Menzel GmbH, Berlin
Bildgiesserei Hermann Noack GmbH + Co. KG, Berlin
Odin Design, Reinheim
offdesign, Berlin
Public Address, Hochheim
R&F Logistik, Berlin
Philipp Reiner, Berlin
Riepe Ausstellungsbau, Bernau
Rütt + Schulz Restaurierung GbR, Berlin
s-hamacher, Berlin
Felix Scharstein Geräteentwicklung, Berlin
Jo Schöpfer, Berlin
simon 3d reproduktionen, Berlin
Skulpturengiesserei Knaak, Berlin
Tischlerei Broszies, Berlin
TrigonArt, Berlin
Trinius, Berlin
t2-media GmbH, Berlin
Unikat, Tröbsdorf
UNIPLAN International, Kerpen